Back to ~ Homepage
The Worldwide Campaign for Public Transit in Detroit
The plans in this website or same are most essential.
So, without adopting these or better, Detroit transit tax increases and renewals
must all fail for safe and affordable transportation for everyone.
Click Here ~ There is no time to waste ~ Learn why 24/7 bus service is the answer
To Donate --- Click Here ------ Please make this site go viral Worldwide.
The City of Detroit public bus systems are broken
by concrete barriers of despair and loneliness
and are no longer in working order.
The transportation tax increase and renewal proposals have become so corrupt in this city that competent opposition with proven solutions to defeat them is now essential. The residents believe a new regional authority will receive federal grants and improve public transit. These grants and the required fare box to revenue ratio are non-existent. Statistics reveal the new authority is not willing or able to provide safe and affordable bus service at any cost. The transit advocacy groups have sold out to the imperial capitalism of the wealthy and ignorant political leaders. Obtaining complete financing and eliminating the known obstacles that are preventing mass transit now means defeating the Suburban Mobility Authority for Regional Transportation (SMART) next August 2022. In addition, the Regional Transportation Authority of Southeast Michigan (RTA) must be prohibited from allowing the public a vote in November 2020.
The passage of the August 7, 2018 SMART renewal is proof of the necessity to change the language at the voting booth. The protection of all revenue sources is morally and legally obligatory. The Federal excise and state fuel taxes and passenger fares need to be in writing with their specific objectives and purpose. Detroit families could soon be replacing old buses for new ones with little money should local transit proposals pass in their present form. This is dangerous causing more accidents by forcing people to drive late at night due to high costs and service reductions.
Since 1995, over $1 Billion dollars for freeway expansions were raised by SMART shifting the cost of transportation to the local governments. The downtown one will add one lane in each direction for 6.7-miles and add continuous service roads to accommodate local traffic along both sides, eliminating left-lane entrance and exit ramps. North of the city is another one which will replace all vehicle and pedestrian bridges and add a 17-mile lane north and south to be used for carpooling during rush hour and regular traffic at other times. There are many statistics proving these will make existing bus service worse. This makes SMART an integral part of a lethal combination causing urban decay and the destruction of farmlands and wetlands. The public is told these expansions will stimulate the economy, improve the quality of life by reducing congestion and add safety improvements. The attitude is more concrete, more freeways are practical because public transportation here is not going to take the place of the automobile.
SMART and the RTA lack the desire, legal ability and logistics to coordinate the movement of people at this moment. This has resulted in more dangerous highways in rural areas due demographics changes. Transit proposals today mean putting the car and trucking industry profits first and safety last. An educated public will vote NO to end passivity and the squandering of money on ill-conceived transportation projects that are based on prejudice and lies. --
-- Please see -- http://savethefueltax.org
Harold Leese
Gatineau, Quebec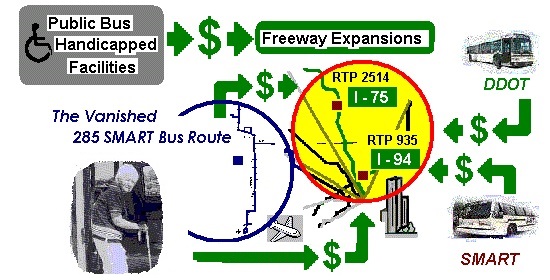 A worldwide campaign is necessary because the voters in Detroit
are unaware of the safety and economic dangers they are now facing
Misconceptions about the SMART Property Tax
State law requires millages like this one to be renewed by the voters every 4-5 years - There is presently no such law.


Without voter approval August 7, SMART bus service would STOP, leaving tens of thousands of people stranded and adding thousands more cars to the road. - If this failed, not one single person would have been stranded and there would have been no cars added to the roads.


SMART is not the Regional Transportation Authority of Southeast Michigan - RTA . - There can only be one Authority for funding purposes under federal law.


What does concern me is that people will think this SMART millage is about (the Regional Transit Authority) and it is not.. - There is no truth to this statement.


SMART is only a "partial solution.". - Not when you cut federal and state fuel taxes from them at the voting booth.


Suburban Mobility Authority for Regional Transportation could cut up to 843 employees if voters reject the millage renewal. - The August 7, 2018 property tax renewal was protected by federal laws.


SMART receives approximately 25 percent of its funding from the gas tax. Without local funding, SMART or any transit agency cannot receive reimbursement for expenses from the gas tax." . - Expenses from the gas tax are mandatory in Michigan by federal laws without any local funding at this time.


The group recommends ending the SMART property tax and instead putting money toward vouchers for more direct transportation such as Uber and Lyft. . - The Michigan Comprehensive Transit Fund for the transit dependent is in grave danger thanks to your opponents. So, please consider joining forces.


These ads used to pass the SMART 2018 tax are a violation of the Civil Rights Act of 1964.