BACK TO --- Transit Advocacy Groups
The basics of funding
| | |
| --- | --- |
| Transit supportive agreements should be in writing. Larger urban freeways are not among the answers to save mass transit, our cities and to protect our environment. | |
--- If increased funds from the Michigan Department of Transportation (MDOT) are not in writing at the voting booth, then they do not exist. Conditions to make the freeway expansion projects accessible to all and save SMART include ---
MDOT funds to support the handicapped and disabled permanently.

MDOT funds are increased to pay for federal transit grants.

MDOT 24 hour / 7 day a week frequent bus service is provided to downtown Detroit and Metro Airport along existing bus routes for regional mass transit. (studies show this is needed)

Present funding and policies to remain intact.

The full 10% OR more of all fuel taxes is to fund existing transit providers (SMART and DDOT) in writing.

The expansion and maintenance of freeways in Detroit and nearby is to be complemented by frequent mass transit paid in full (including operating costs) by MDOT to remove cars.

Implement the basics of the original "A Framework for Action" plan or similar with a guaranteed portion of the gas tax in conjunction with other logical solutions such as special assessment taxes and incentives to better use limited funds. See (Option 1) under alternatives to tax increases...

Allow competition by giving each community their choices of services, tax rates and providers with SMART remaining part of the county transit authority.

Allow the base minimum of .6 mil in communities in Wayne, Oakland and Macomb to support SMART as the premier regional public transit provider by public vote. In addition, provide written agreements for CTF funds to be utilized as a multiple source for "operating" expenses for frequent bus services along all major roads that were replaced by the freeways and related routes.
An optimum balance of funds from fuel taxes, fares, tolls, commerce and many revenue sources for transit is the proven solution. The best source is wages from those who pay at the farebox and monthly passes.
In 2003, transit rider ship increased in the western Detroit suburbs by SMART transit officials working with the public in Livonia to protect both state and local property taxes for community transit. In November 2006, transit advocacy groups rejected this improvement and instead favored of a regional transit authority "House Bill 5467 (DARTA)" to replace current operating budgets. This was gross negligence according to statistics provided at city hall and elsewhere which caused many residents to reject the contract to keep bus service.
| | |
| --- | --- |
| In late 2005, transit advocacy groups in Livonia, Michigan failed to keep the large state funded handicapped buses from shutting down | |
Beware of transit tax increases to cure a crisis that doesn't exist
We can pay for public transit with present funding. The question is "do we want to?" or do we want to support other tax mechanisms and new policies? Watch out for snake oil claims to cure traffic congestion and to help the poor. They go by the names of state transit grants, regional cooperation and many other such comforting names. What they really do is give a false sense of security at the cost of economic freedom.
The increasing costs for transportation
"County and Local tax uses" return
New Freeways, Bridges, Roads, Luxury Trains and More Government
is Leading Michigan to Nowhere...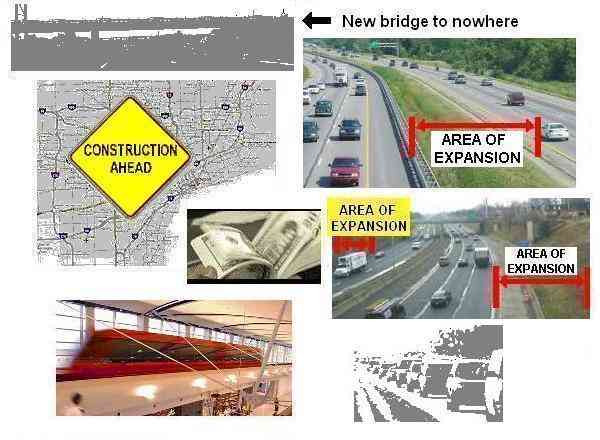 A SMART idea: Take a hard look at transportation system return
The Suburban Mobility Authority for Regional Transportation has a $45 million ticket-to-ride for the next four years. The voters deserve a bus system that will improve its performance and one that will induce more of us to actually use the buses.
The voters are willing to pay for the buses for other people to ride, but most of us who voted "yes" for the SMART renewal and increase will never actually ride a bus.
In an election where communities voted down police protection, the voters favored a public transportation system for all the people who do not own cars.
But lack of ridership is one of the biggest roadblocks to an economical SMART. Large, largely empty buses are not an efficient way of spending our public transportation dollars.
The total SMART budget for next year will be more than $100 million and the total ridership is projected at less than 10 million. That is roughly $10 a ride - fairly expensive for public transportation. And it explains why just 9 percent of SMART's budget comes from fares paid by riders.
By comparison, Chicago Transit Authority's bus system derives 50 percent of its operating budget from the fare box. And the average cost per bus rider in Chicago (fare plus subsidy) is less than $1.35 a ride.
Filling up the SMART buses would cut the cost of a ride dramatically, but the issue of how many people actually use SMART buses was hardly touched on prior to the election. Voters were not asked why they don't ride and not much was said on how SMART was doing on its plan to downsize buses.
Oakland Press readers who have been to Chicago know the difference between their buses and ours is that theirs are full. Not only are they full but they are used by everyone - not just the poor, the disabled and the elderly.
Before the next millage election in four years, we offer some goals for SMART officials.
Increase ridership or decrease the sizes of the buses. Get those big SMART buses filled to 70 percent capacity or trade them in for minivans purchased from local automobile dealers.
Increase the portion of the operating budget paid by fares to at least 30 percent.
Lower the total cost of an average SMART bus ride to under $5.
Find out why so many people ride the bus in other cities and why so few do it here. We have heard a number of theories - scattered employment centers, dispersed populations - to explain why other cities' systems work better than ours. If the Detroit metropolitan area is so different, maybe we need a different kind of public transportation.
If our public transportation system cannot meet those challenges when this millage comes up again for renewal in 2006, we need to ask ourselves: How smart is it to spend this much money to transport so few people?
Mass Transit
Die-hard drivers must be shown the advantages
August 26, 2002
With more people driving in metro Detroit, transit advocates must work harder to build a consensus on a regional transportation system that will benefit all.
Census 2000 figures show southeast Michigan has become even more wedded to the automobile. Fewer people take public transportation to work -- less than 2 percent -- than in 1990. Solo drivers rose from 83 percent to 84 percent, while carpoolers dropped from 10 percent to 9 percent. Not surprisingly, commute times continue to rise.
Even in Detroit, the share of workers taking public transportation dropped, from 10.7 to 8.7 percent, as the portion of households without cars fell from 33 percent to 22 percent. Boom times in the 1990s pulled some Detroiters out of poverty, and welfare-to-work initiatives placed many low-income workers at jobs that were difficult or impossible to reach by local buses.
Those trends show regional mass transit must attract more than those who depend on it. Transit is still widely regarded here only as a kind of social service for seniors, people with disabilities and the poor, rather than a catalyst for economic growth and better quality of life for everyone.
Better transit means fewer cars on the daily commute, which translates into less highway congestion, lower road costs and cleaner air.
That message and more are what the Southeast Michigan Council of Governments and the Metropolitan Affairs Coalition will have to spread as they push for a rapid transit bus system. Service will have to be frequent and reliable enough to lure people out of their cars to get metro Detroit moving forward.
---
A referendum passed 55-45 percent to withdraw from SMART and use a 0.5-mill tax to expand community bus operations for seniors.
Livonia votes out of SMART, jeopardizing bus system
LIVONIA -- One of Metro Detroit's biggest suburbs wants to dump the region's beleaguered bus system, leaving a gaping hole in an already patchwork service.
Livonia residents voted Tuesday to give the City Council approval to withdraw the city's $2.4 million tax subsidy of the Suburban Mobility Authority for Regional Transportation (SMART), prompting worry among bus advocates that other suburbs may follow suit. The council is expected to make the move official by year's end.
With 100,000 residents, Livonia would be the largest city to end the service, which serves Detroit and 50 of 103 suburbs in Wayne, Oakland and Macomb counties. Farmington Hills officials are debating whether to bow out of the system in 2006.
"There are fears other communities might get the idea to save some pennies by doing what Livonia did," said a spokesman for Transportation Riders United, a mass transit advocacy group.
"People still need to get to work, get to school, get to doctors, yet we continue to make it more difficult."
In an unexpectedly large Livonia turnout, a referendum passed 55-45 percent to withdraw from SMART and use a 0.5-mill tax to expand community bus operations for seniors.
Officials downplayed the result, but it could have a profound impact on not only the local economy, but also the future of mass transit in southeast Michigan.
The result means that bus service would end in Livonia next fall, leaving the most prosperous corner of Wayne County without public transportation links. Canton Township, Plymouth and Northville opted out of the system in the 1990s.
Those communities and Livonia are home to 136,000 jobs, according to the Southeast Michigan Council of Governments. SMART takes some 1,000 riders each day to jobs in Livonia, according to its general manager.
"Bus service has always been contentious in Livonia," an official said, noting that city officials have threatened to pull out of the system three times before. "Taking care of people from the outside has never been a top priority."
The result also could influence ongoing debate about expanding mass transit throughout Metro Detroit, a transit advocate said. Opponents in Lansing could seize on the vote as proof that suburbanites don't want expanded transit.
Ironically, Livonia is withdrawing from the bus system even as its use is increasing. Daily ridership has increased some 15 percent since last year to about 41,000 riders a day.
Census figures show that less than 1 percent of Livonia residents use public transportation, however, and many residents felt taxes could be better spent. The subsidy cost owners of $200,000 homes about $60 a year in taxes.
"It's not a wise use of taxpayer dollars," said a civil engineer. "Buses often run far below capacity. There must be a better mechanism to spend our tax dollars."
On its surface, the vote pitted arguments about fiscal austerity against maintaining a safety net for those who need the bus. But like other issues involving Livonia -- and mass transit -- race loomed large.
Although its demographics are similar to many other suburbs, Livonia continues to battle its stigma as the "whitest city in America." It earned the nickname because of a Census report: At 95 percent white, it's the most homogenous U.S. city with a population over 100,000.
Livonia's population has since dipped, but the notoriety remains -- as evidenced by ongoing debate about a 24-hour Wal-Mart at the defunct Wonderland Mall. The plan has drawn hundreds of opponents, a few of whom made headlines complaining it would attract too many African-Americans from Detroit.
"The bus issue isn't racial. It's about getting your money's worth," said a saleswoman. "People want to use racial issues to put our city down."  
Visions become false dreams...

The continuation of the efforts from many to improve and keep in existence present tax mechanisms and funds to properly support, maintain and manage two public transportation providers were replaced with a secession from previous funds and to merge as a prerequisite to enable new tax mechanisms and increases.

The creation of a new transportation authority known as DARTA with the county tax as the primary target for an operating budget was not of adequate ability to overcome the obstacles of the lack of user fees, consensus, good planning and organization. An unfortunate failure at the wrong time and place.

The direct result of this was a majority vote on November 8, 2005 in the city of Livonia to eliminate the Suburban Mobiliity Authority for Regional Transportation ~ SMART.