The Case for State Fuel Taxes to Support "Transit Operating Assistance"
- page four
Back to --- Transit Oriented ...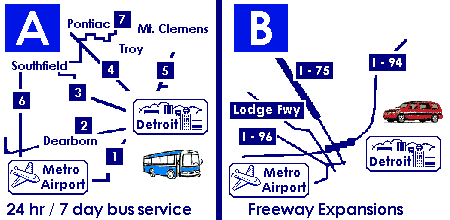 The plans as shown above on side B are real and do not include those on side A
---
If you want mass transit, please write to MDOT.
--- Please get them to protect state fuel taxes to operate SMART and mass transit
Michigan Dept. of Transportation (MDOT) - State Transportation Building
425 W. Ottawa St. P.O. Box 30050 Lansing, MI 48909
--- Time is running out ... Transit taxes in Michigan are insufficient without compliance from MDOT to protect our environment and urban culture. This includes the SMART property tax (Proposal S) which will expire on the date shown below. Please support "The Plan..." to ensure this proposal gets the full permanent MDOT funding that the transit supportive voters deserve, need and want.
Date: Aug 1, 2018 2:00:00 p.m.