Suburban Malls / Description of Service    back to top
During peak rush hours, buses will be increased in size and frequency based on computer data. During low demand periods such as 3 am, buses will will be reduced in size down to a small van. The GPS (Global Positioning System), a wide area radio dispatching system and monitoring systems on board for drivers will keep buses evenly spaced apart and continuous as shown in the picture at the top of this page. Conventional schedules used in conjunction with above.
The malls below are all connected with 24 hour bus service. Get to any mall on the map below within minutes. Each mall to have bus only lanes and traffic control for fast in and out service. Avoid holiday parking. Thousands of shoppers and workers will never have to drive to a mall thus reducing heavy traffic congestion around malls. Advanced computer technology will ensure nearly full buses without overcrowding. Going to the mall on the bus will be affordable, not just at the farebox but also in time savings with frequent service. Bus rides will be fun again for everyone, just like in the street car days.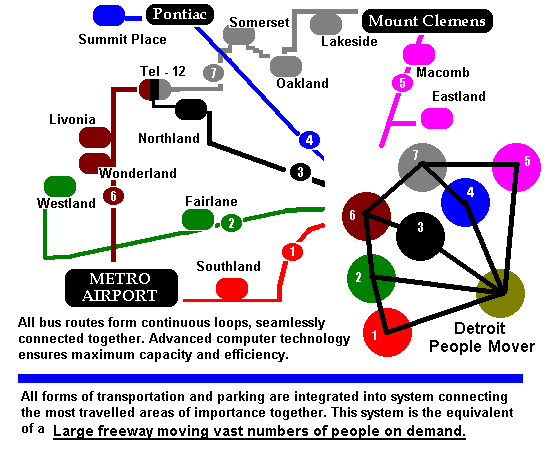 Each mall bus terminal will have a unique theme representating the local area complete with an indoor waiting area, covered boarding area, real-time bus monitors, seating, games and other amenities. Malls will gladly help pay for the needed improvements as these will draw many new customers and the costs will pay for themselves many times over. The new mall bus terminals will be the new central areas for meeting and relaxing. These terminals will have security and lots of people like the transit terminals of the past.