Back to ~ Transit Taxes in Southeast Michigan
New Countywide Taxes
The NEW RTA Regional Transit Authority of Southeast Michigan (Wayne, Oakland, Macomb, Washtenaw) must now pay for city and suburban public bus systems, if public transit is to ever work in greater Detroit. This includes a motor vehicle registration fee, sales and countywide property in addition to the SMART property tax or equal, which is now permanent.




Unfortunately, these new tax mechanisms and increases will never restore bus service or fill up buses.

--- Unless YOU post this Website EVERYWHERE.
... It's your choice
Only_YOU can get a real public mass transit system that actually works in southeast Michigan by supporting Save the Fuel Tax, today!!!
Support the plan that worked and increased SMART ridership on four major bus routes before November 2006 proving that 40,000 more cars per day can be removed from downtown Detroit freeways without more local tax increases by educating the registered voters to learn how mass transit can work.
OR
Do nothing and get the the Multi-Billion dollar freeway expansions and more Multi-Million dollar mass transit studies. The transit tax increase advocates will work to pass more and larger local tax increases despite pubic bus service reductions, incompetence, urban decay, the loss of inner city jobs, vanished federal and state grants and operating assitance from taxes on fuel and the loss of user fees including fare box revenue.
Only YOU can make the 2016 RTA tax work or defeat it, if necessary to fill up public buses first with fare box paying customers.
KNOW the facts or NO Mass Transit. Remember the SMART and DDOT public bus service reductions?
Quote
The Regional Transit Authority of Southeast Michigan (RTA) is the agency with oversight and service coordination responsibility for mass transit operations in metropolitan Detroit, Michigan. The counties of Macomb, Oakland, Washtenaw, and Wayne are included in the agency's jurisdiction.
End of Quote
There is nothing in the agreement that will do this at this time.
Quote
This new authority has oversight and coordination responsibilities for the Detroit Department of Transportation (DDOT), Suburban Mobility Authority for Regional Transportation (SMART), and the Detroit Transportation Corporation. The authority was also established to create a single mass transit plan for the region, including the development, funding and operating of bus rapid transit along four major corridors in the metropolitan area.
End of Quote
Notice the word funding? That means they want you to pay a tax on your license plate or property to pay for SMART and DDOT. So, if you want full buses then please support Save the Fuel Tax dot org
Quote
The RTA is governed by a 10-member board which is granted the authority to levy a special assessment and/or collect a motor vehicle registration fee, if approved by voters, to fund the development and operation of transit services, or the purchase of existing transit providers with unanimous consent of the board.
End of Quote
Again the word fund is key. This means money and not using buses to remove cars from I-94 and I-75 freeway expansions or posting schedules or job growth. This can only come if you support this website. There is no other known way at this time.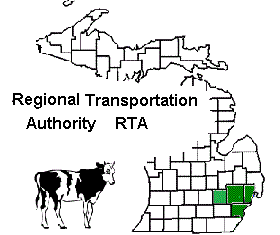 | Hamburger Combo | 4.69 |
| --- | --- |
| Sales Tax | $0.28 |
| Regional Transportation Authority Tax | $0.02 |
| County Road Commission Tax | $0.02 |
| Total | $5.01 |