Shuttle Buses
All bus lines will link hundreds of shuttle buses together. This will increase ridership among all public and private bus systems while decreasing traffic and keeping our air cleaner. An increase in employment and commerce will also result and benefit everyone including the automobile industry. Shuttle buses to have on board computers connected to the backbone mainframe computers to decrease transfer times to and from the 24 hour buses.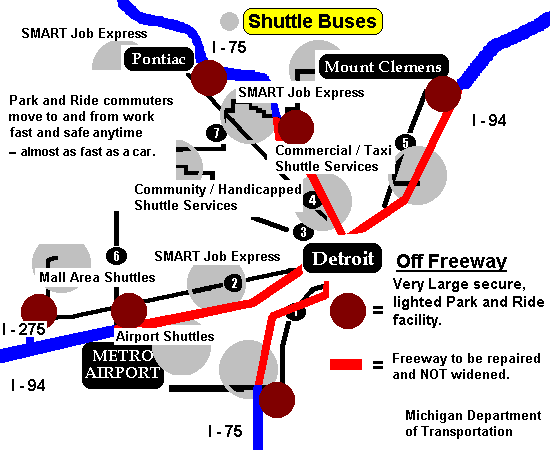 ---
ALL 7 THE Plan routes are Shuttle buses.
The Shuttle method is by far the most efficient, proven method of moving large numbers of people at an economical cost.

Mathematically, the shuttle method with evenly spaced buses is the most efficient means of moving the most number of people.

Statistically, the large downtown areas, malls, metro airport and large office areas such as Troy are the most densely packed areas of employment and commerce in metro Detroit. Connecting these areas together will move a very high number of people.

The five routes in THE Plan leaving downtown Detroit are the most direct, fastest roads serving the largest number of people possible in the inner metro Detroit area.

Connecting both ends of the five spokes will multiply the number of passengers.

Constant 24 hour/7day bus service is the most efficient means of moving the most number of people.

Direct 24 hour public transit connecting metro airport and downtown Detroit is essential. THE Plan system using buses is by far the best, most economical solution including rail.

Connecting Wayne, Oakland and Macomb county governments together are essential for regional transportation.

Connecting and intregrating existing public and private transit systems together are essential.
7 Shuttles connect the largest number of
employment and activity centers possible
within existing budgets.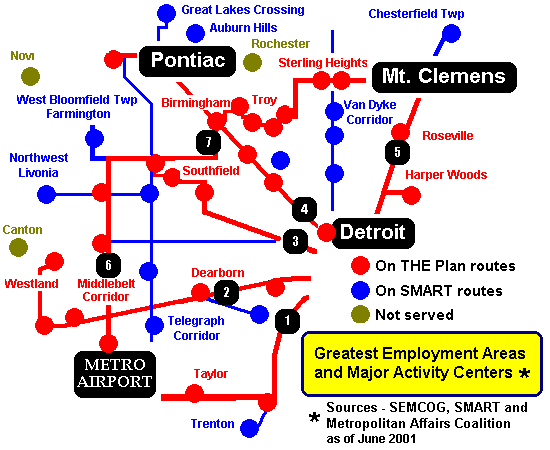 ---
Examples of affordable shuttle bus methods.
Detroit Street Cars of the early 1900's
High density cities in Europe.
The Detroit People Mover during conventions and festivals.
SMART Park and Ride with proper State / Industry support.
Detroit area privatized work shuttle services.
Work shuttle buses for factory workers without cars in Mexico.                     
Many others.