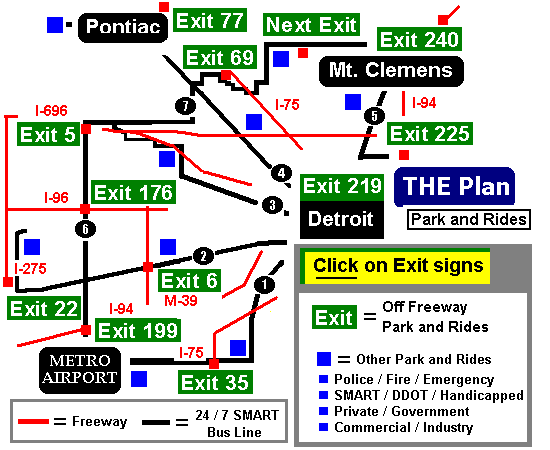 These routes are the most efficient and cost effective possible based on employment and travel patterns in Detroit and the inner suburbs. Computerized old-fashioned frequent bus service will make driving to downtown Detroit on crowded freeways such as I-75 and I-94 history.
These Park and Rides will almost always be full, generate many employment opportunities, increase state tax revenues and SMART's operating budget.
The VOTE for 24 / 7 Bus Service is a citizens petition drive to protect and increase state transit operating subsidies
---
7 People movers
connect
all Park and Rides

The fewer the routes the faster people move because of decreased transfer times. It's generally not practical to transfer more then once.
Intelligent traffic signals decrease travel time by 25%. Use of tokens only and bus only lanes improve travel times by 10%. SMART timetables and calculated time's result in proving that bus service is affordable with high ridership. Taxes are needed to build system and pay the necessary high costs of mass transit for those who cannot afford them.
---
THE Plan - Constant on-demand public bus service